A Brief Introduction To Belize
Belize is a small, English-speaking Central American/Caribbean country, and was created out of a backwater British Colony, British Honduras. Belize gained its independence in September of 1981. (The name "British Honduras" came from the Rio Hondo at the northern border and the Gulf of Honduras.) The name was changed to Belize in 1973 in anticipation of its independence.
Belize's close proximity to mainland USA allows us to offer Discount Travel Packages to beautiful Caribbean locations and Central America. Belize is a relatively short flight from mainland USA, and has direct flights from Los Angeles, Dallas/Fort Worth, New Orleans and Miami. Our Logistical office in Florida is constantly researching to assure we can offer the best & least expensive discount domestic and international airfares around!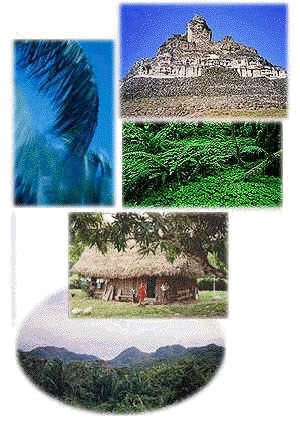 Located south of the Yucatan peninsula facing the Caribbean, Belize is 8,866 square miles in area and is roughly equivalent in size to the state of New Hampshire, and is bordered to the north and northwest by Mexico, and to the west by Guatemala.
Belize enjoys a diverse topography. The low-lying plains in the north are largely covered with mangrove swamps, watered by numerous rivers. The Maya Mountains rise to 3,699 feet at Victoria Peak, which dominates the southern landscape. The Mountain Pine Ridge, in the north, is a pine-covered remnant of the oldest land surface in Central America. Except for the mountains, the predominant geological features consist of limestone and limestone sediment.
A spectacular barrier reef lies ten to twenty miles offshore. This reef fringes most of the coast and protects some 175 cayes (pronounced 'keys') dotting the shallow inner coastal waters.
Belize society today is ethnically diverse and culturally rich. The population of Belize is approximately 250,000. Comprised of Creoles (African-European), Garifuna (African-Indian), Mestizo (Spanish-Indian), Maya and European. Historically, it is a country of immigrants with most of the Mayan tracing their roots to Mexico or Guatemala. The ancestors of the Mestizo population lived at one time in the Yucatan. English is the official language and is widely spoken, as is Spanish, Mayan, Garifuna and Creole. Belizean Creoles are the descendants of slaves brought from Africa and the West Indies. Generally, to be Creole means to have some African ancestry, but is now used primarily to identify non-Indian, non-Mestizo ways of life, with a set of social values derived from the Anglo-Saxon countries.