Belize Belise and Guatemala Academic Group Student Travel, cheap flights.

------------------

















Group Travel Cayo Facilities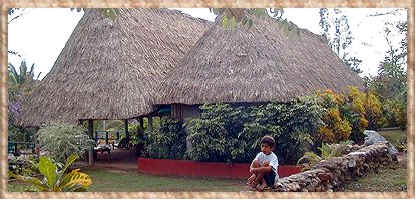 Group Travel Cayo Facility is nestled amidst the rainforest and alongside the beautiful Macal River, surrounded by beautiful palms and exotic trees, creating an exotic atmosphere. The Resort was built by the Tut family, using the ancient art of palm-thatched roofs that blend with the natural beauty of Belize. Our large family runs the resort as a team, and we invite you to join us in a relaxing atmosphere where we all speak English, as well as Spanish.
You will enjoy our 20 guest rooms, tiled and decorated with our own colorful Mayan wall-hangings and bedcovers, an art taught by our mother. You will also experience the best home cooked meals including a variety of local dishes, home grown coffee, vegetables and seasonal fruits. Our open air dining room and self-service bar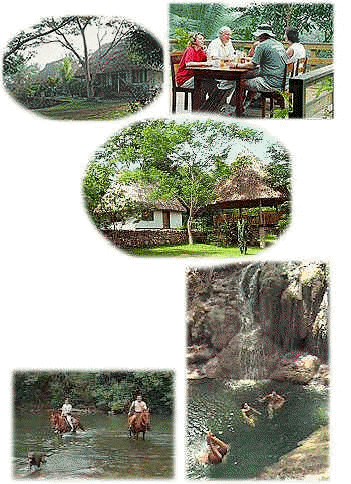 overlook the surrounding jungle, so after a day of activities, you can come and join the us out on the deck, enjoy the botanical gardens or relax in a cozy hammock under a thatched roof palapa.
Our cabanas are available with thatched roofs or without and are equipped with ceiling fans, hot and cold showers in private baths. Early morning or late evening you can listen to the sounds of the jungle from your very own veranda with a hammock and deck chairs for your comfort. Laundry service is also available.
Take a mountain biking tour through the jungle leading to Maya ruins and water falls, butterfly farms and caves or simply ride through the nearby village of Cristo Rey where we can arrange for to you learn how to cook traditional meals. Ask our guides anything. They are very knowledgeable in all fields, whether it be birding, botany, archeology etc. Or if you prefer, simply relax on your deck, sipping a cup of hot home grown coffee and take in the scenery. Mornings here are most attractive as the mist rises off the river when the sun rises.
We want you to feel comfortable and part of our family. Guests are free to pick the fruits that are in season or roam the grounds in search of exotic trees and plants. The avid birder has plenty here to see as well. Up to eight species of hummingbirds and 20 other species of birds frequent our resort including flocks of parrots that can be sighted right off the deck in the morning
Enjoy the adventure and come to understand why archaeologists, botanists, zoologists, conservationists and ornithologists have been coming to Belize for decades to study and conduct field work. Come and see for yourself why Belize is known for its natural beauty and swim the crystal waters.