Belize Belise and Guatemala Academic Group Student Travel, cheap flights.

------------------

















Biological Field Station Las Guacamayas,
Peten, Guatemala
The Las Guacamayas Biological Field Station lies within the buffer zone of the 1.6 million Hectare Maya Biosphere reserve in Peten's northern region.

Location:

Las Guacamayas Biological Field Station lies on the shore of the San Pedro river in northern Petén, about 16°49- 17°49'N, 89°08'-91°50'W. The Field Station is within walking distance (3 miles) of the Maya Indian village Paso Caballos, population 200 people. The Field Station is the most modern facility within The Maya Biosphere Reserve, which includes five national parks, three biotopes and a multiple-use area – Laguna del Tigre is recognized under RAMSAR, and Tikal NP is a World Heritage site.

Area:

Las Guacamayas Biological Field Station is approx. 450-500 km². (Located within the 15000-16000 km². Maya Biosphere Reserve).

Altitude:

c. 10-800 m.

Vegetation:

Subtropical semi-deciduous moist forest, savanna, wetlands. High diversity: Flora: High diversity: over 3000 plant species in Maya Biosphere Reserve; distinct regional endemism; threatened species. Useful Plants: Timber species, fuel wood, fibers, fruits, medicinals; Maya Biosphere Reserve important for extraction of non-timber forest products: e.g. xate palm leaves, chicle, allspice.
Facilities:
The physical station consists of 8 buildings, all of which were built 1995. The central dining room seats 50, and an equal number can be accommodated in a diversity of housing including dormitories and smaller cabins. The laboratory provides ample research space and a range of equipment for ecological research (e.g. deionized water still, wet tables, autoanalyzer, spectrophotometer, gas chromatographs, etc.). The Station has a powerful generator, which is operated in accordance to the group needs. The library and herbarium are also part of the research quarters, and additional screened laboratory space is avail-able, as are a soil preparation building, shade houses, etc. The station is accessible by the San Pedro River and a carefully maintained trail.
Research:
This lowland tropical rainforest site is a major drawing card for researchers educators and students from around the world. Many publications available today are attributable to the Maya Biosphere reserve and they range in scope from studies on biological diversity to the physical chemistry of soils. Independent investigators and schools from around the globe conduct most research. Several long-tern research projects are ongoing at the station.
Education:
Facilities are made available to high schools, undergraduate and graduate schools, which are fitted around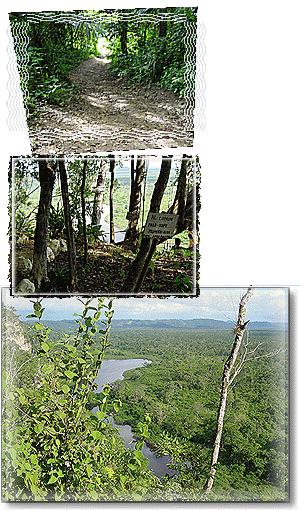 research priorities. While the station per se does not offer courses, The University of San Carlos and Schools from The USA and Canada use the biological reserve each year and hundreds of local children, parents, and government officials are introduced to conservation and sustainable land use management through environmental education programs. Each day, professors and teaching assistants give lectures and provide background information to help students and visitors develop a conceptual framework for understanding the diversity of the neotropical rainforest system. Lectures, group projects and exposure to real examples of plant-animal interactions are designed to help participants develop their own original research projects.
The primary goal of Las Guacamayas Biological Field Station is to provide the means to challenge participants and visitors intellectually, and utilize with them, the problem-solving skills and academic background needed to address key issues in tropical ecology, environmental studies, and conservation. At the same time, to develop and master a plan that would yield a harmonious and sustainable development in the region, guaranteeing the stability of present natural and cultural resources.
(For More Information About the Maya Biosphere, Click Here).