Group Travel Living Coral Reef Facilities...
Beauty on the Barrier Reef!
South Water Caye is a 15 acre island, and is located in the center of the South Water Caye Marine Reserve 14 miles off the coast of Dangriga, Belize. This picturesque tropical island sits atop the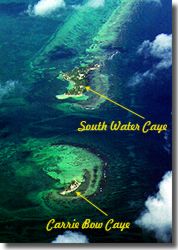 Belizean Barrier Reef which was declared a World Heritage Site in 1997. Our location makes it convenient for a spontaneous snorkeling adventure into coral gardens 20 yards offshore.
With plenty of hammocks and lounge chairs, and short trips easily arranged, this is the perfect place to snorkel, scuba-dive, learn about the marine environment or just relax.
To take advantage of natural sunlight and wind and to avoid noisy generators our lighting and some refrigeration is provided by a photo voltaic system (solar powered energy). Bathroom facilities are state of the art, water-saving composting toilets in half baths located in each unit, with shared gravity-fed ground level showers.
Sounds rustic? We've planned our facilities so that you can really relax and enjoy the natural beauty surrounding you. All your needs are taken care of so you can avoid making major decisions - no need to wear makeup, dress up for dinner, carry around your wallet, or even remember when mealtimes are (just listen for the bell!). All the reservations and administration for this facility are done at our Dangriga location, leaving our staff to concentrate 100% of their energies on making your stay a memorable one. Our guest book is filled with wonderful comments probably best summarized in the following quote:
" the food, the people, the snorkeling, the hammocks, the Osprey's Nest - paradise found!"
Accommodations - on the south end of your island retreat
The University
Located near center of the island, "The University" is self-contained and designed
to house larger groups and can sleep up to 23 people. This large two-story building has 5 bedrooms with bunk beds, half baths upstairs, ground level shared showers and a kitchen and spacious recreation and dining area downstairs. This is the ideal location for larger family or academic/ educational groups that prefer to be together.
We offer fully customized itineraries for these groups including full in country transportation, marine and terrestrial instructors combined with side trips to rainforest, mangrove and marine habitats throughout the country of Belize. Since first opening in 1971 we have had extensive experience in providing these services to groups from high schools, colleges and organizations.
A large two-story colonial wooden building, formerly a "Convent" belonging to the Sisters of Mercy,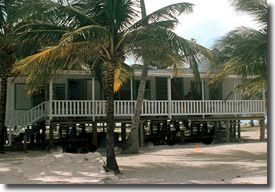 houses the "Pelican's Pouch", our central dining room on the ground floor, with 5 spacious rooms on the second story. Each room has a bird's-eye view of the magnificent reef crest and first claim on the tropical breezes.
At the exclusive southern end, there are 2 Belizean style wooden cottages, making up our...
Private Cabanas; We try to make these available to group leaders when possible, but understanding, this is on a "first-booked" basis...
Meals are served family style in the Pelican's Pouch, with plenty of Belizean dishes and seasonal seafood.
Activities
Snorkeling - is possible right off the southern tip of the island and additional side trips to a variety of patch reefs; "the drop off"; Man 'O' War Caye -sanctuary to the magnificent fri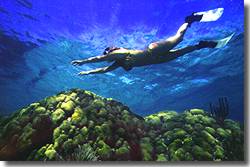 gate birds and brown boobies; and mangrove habitats are all easily arranged.

SCUBA - A PADI dive shop is located on the island and offers certification, night dives, and SCUBA gear rental.

Kayaking - kayaks are available at no charge for a trip around the island or just a little exercise.

Birding - A wide selection of herons and other wading and shore birds are resident on the island along with Pelicans, Osprey, warblers. Visitors include North American migrants in the winter months as well as the Magnificent frigate birds from nearby Man 'O' War Caye.

Marine Ecology tours -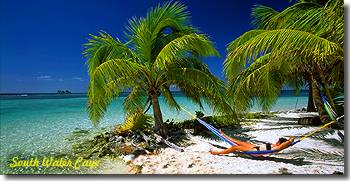 Surrounded by a multitude of marine habitats, guided snorkeling adventures cover the patch reefs, floating mangrove roots, a large sinkhole, the spur and groove formations outside the reef and even a snorkel over the unending "drop off".
Games and Library - An assortment of board games and a small exchange library are available in the Pelican's Pouch.
Hammocking - An activity? Only if you have to push with your foot to keep swaying or if you count trying to decide which hammock to try this time!