Belize Belise and Guatemala Academic Group Student Travel, cheap flights.

------------------


















Group Travel Sea Front Hotel Accommodations, Toledo District, Belize
The Sea Front Accommodations are built on the edge of the Caribbean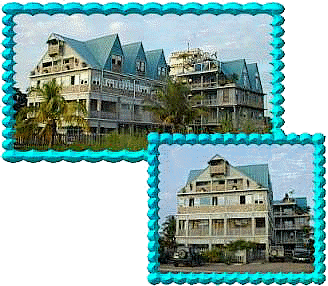 Sea at the northern end of a quaint town called Punta Gorda, a scenic one hour flight from Belize International Airport.

Family built and operated, we offer eleven rooms and six apartment units for the visitor to this tropical paradise we call home.

Guest rooms and apartments are fashioned with jungle hard woods and many special touches that coordinate with the nature theme. Some of our repeat guests enjoy specific themed rooms. They reserve the same room prior to their next visit.

Y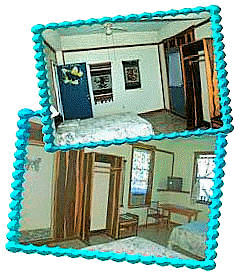 ou may find yourself staying in the Jaguar, Parrot, Manatee, Dolphin, or Howler Monkey room. Artwork on each door signifies the theme.

Each door was hand painted by a local artist.

Some rooms have private verandahs for enjoying the magnificent scenery.

At the end of each guest room floor in the first building there is an expansive verandah containing chairs and hammocks for your enjoyment.

Friendly and knowledgeable staff is always offered with a smile. Come experience why smiling is such an easy thing to do!

On the third floor we have created a place dedicated to dining and relaxation. Sit at one of the many hand made mahogany tables. Gaze out onto the blue waters and neighboring mountains of Guatemala and Honduras.

Be entertained by the hidden sculptures and carvings in each of the rosewood pillars that transport you back to the time of the ancient Maya.

Each room is equipped with air conditioning and cable TV, and all feature private bathrooms with hot water showers.


Are you an early riser?
Use the verandahs to watch the spectacular sunrises.

Meals While You're Here...

Breakfast

Our Restaurant is open to guests for breakfast. It offers a selection of delights that guarantee "to start your day in a Caribbean way".

Kick back and enjoy the morning sun and the breeze. All breakfasts are made to order-- we don't serve fast food - we serve delicious breakfast platters.

Begin with freshly squeezed orange juice - or freshly brewed coffee from locally grown and roasted beans.

You may want to order the French toast platter -created by using bread baked daily on the premises. Or how about starting your day with a tangy tropical assortment? From papaya to pineapple - ordering the fruit plate lets you sample what's in season in the Toledo District.

Do you enjoy the moonlight as well?
During full moons, the view is indescribable.

Because our menu selections vary so widely we do not include meals in our trip quotes, but just to let you know how various they could be...

Luncheon and Dinner Menu
Prices are $US, served buffet style, dessert & beverages available.

Shrimp in Red Sauce
Coconut Rice
Green Salad
Fresh Bread
$15.00

Broiled Fish
Steamed Vegetables
Green Salad
Fresh Rolls
$10.00

Curry Conch
(seasonal)
Mixed Rice
Green Salad
$15.00

Steamed Lobster
(seasonal)
Green Salad
Baked Potato
Fresh Rolls
$20.00

Yellow Ginger Beef
Vegetable Rice
Flour Tortillas
Green Salad
$10.00
Bar-B-Que Chicken
Baked Beans
Potato Salad, Fresh Rolls
$8.00
Rice and Beans
Stewed Chicken
Coleslaw, Plantains
$7.00
Spaghetti & Meat Balls
French Bread
Green Salad
$8.00
Pork Fried Rice
Fresh Rolls
Green Salad
$8.00
Hamburger Bar
Fries, Coleslaw
Baked Beans
$7.00
Pizza Bar
Green Salad
$8.00
Sandwich Bar
Soup, Green Salad
$5.00