Belize Belise and Guatemala Academic Group Student Travel, cheap flights.

------------------

















Tikal National Park, Guatemala
Located within the Petén area of northeastern Guatemala, Tikal National Park is within the Maya Biosphere Reserve, and covers 222 sq. miles, most of it being ruins sites. At its height from 700 AD to 800 AD Tikal supported a population of 90,000 Mayan Indians.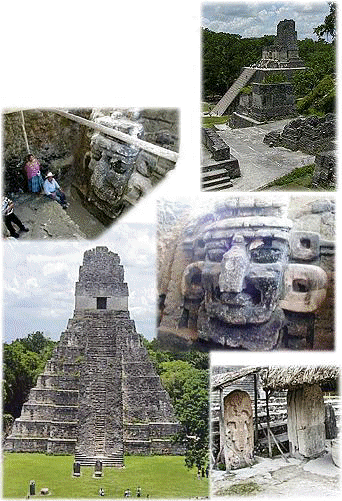 There are over 3,000 separate buildings dating from the period 600 BC to 900 AD, including temples, residences, religious monuments decorated with hieroglyphic inscriptions and tombs. Restorations began in the 1950s and still continue today.
Tikal National Park is undoubtedly the most spectacular on the Ruta Maya. The entrance is only 15 minutes from Casa David. A bus at the hotel entrance at will take you to the park entrance at 6:00 am (opening time). Seeing the early morning mist and sunrise from the top of one of the temples is a special experience you'll always remember. Tikal is the largest of the Mayan Ruins and certainly the most important you'll see on the Ruta Maya. Be sure to climb at least one of the large temples or pyramids! The experience is awe-inspiring! The tranquil feeling of looking out over the jungle from atop one of the temples 212 feet up gives great satisfaction and reminds one of the great importance of protecting the rainforest forever. Plan to see only the main plaza and immediate surrounds if you just have one day at this site.
You will find another quality of the Tikal area to be its abundance of wildlife. Tikal is surrounded by an immense and lush rain forest with an amazing diversity of flora and fauna. You can spend days to a week or more exploring and watching the animals, birds and insects. For best explanations you can get Tikal National Park Guides to show you around. The Monkeys and toucans are common but most common are the Coatimundis. Your trek in Tikal will be one of the most impressive parts of your travels.